Eiffel Tower, Paris
Architecture

Tour Eiffel
The Eiffel Tower (Paris), one of the must sees in Paris, can't be missed from any spot while walking in Paris, was built by the French engineer Gustave Eiffel which was already famous at the time for building bridges. He spent several years building the Eiffel Tower as a monument for the World Exhibition in 1889. Although today, it is without doubt one of the most recognizable monuments in Europe, one that can be compared to the Statue of Liberty in New York, the Big Ben is London and the Taj Mahal in India, it was not supposed to be permanent when it was first introduced. After the Eiffel Tower was built, it faced a lot of criticism from Paris artistic and literary elite. The fact is, that the tower was almost torn down sometime in 1909 while the only reason it was eventually kept was due to its ability to provide a perfect platform for transmitting antennas.
Slowly, the Eiffel Tower became a permanent part of Paris view, settling in the hearts of Parisians as the symbol of Paris providing it with the most beautiful and famous skyline during the evening.
It is possible to climb up the stairs as far as the third floor. Going up to the top though is possible only using the elevator. From the top of the Eiffel Tower, Paris at 1,050 ft (320 meters) is very romantic, especially in the evening.
You can reserve your ticket or book a guided tour online which will skip the lines as well.
Related Activities
Book your skip-the-line ticket to the Eiffel Tower and leave the long queues behind! This is a fully escorted tour by an English-speaking expert...

Treat yourself to an unforgettable night in Paris and combine dinner at the Eiffel Tower with a Seine River Cruise. It's the perfect introduction...

Spend a magical night out on the town in Paris. Start your evening with a lamp-lit cruise along the Seine River, then see more of Paris' city...

Enjoy a one-hour cruise along the Seine River in Paris and discover famous city landmarks such as the Eiffel Tower, Louvre Museum and Notre Dame...


Show All Itineraries with Eiffel Tower
Paris Itineraries with Eiffel Tower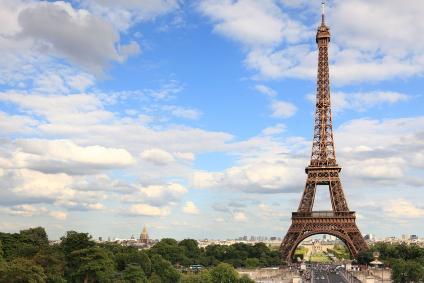 Paris Museums Pass

Paris Attractions Pass

Hop-on-Hop-off Bus Tour

Free Travelcard for public transport

Skip Lines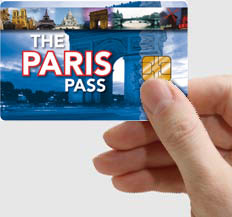 Address:
Quai Branly, Trocadéro/Tour Eiffel, Paris
Phone Number:
(01) 4411-2323
Admission:
By elevator: 1st and 2nd levels €8.20, top €13.40. By stairs: 1st and 2nd levels only, €4.50
Opening Hours:
June until August, daily 9:00-00:45 (23:30for summit). September until June, daily 9:30-23:00. Stairs close at 18:00 in winter
Website:
http://www.tour-eiffel.fr
Metro Station:
Bir-Hakeim, Trocadéro, École Militaire
Area:
Around the Eiffel Tower